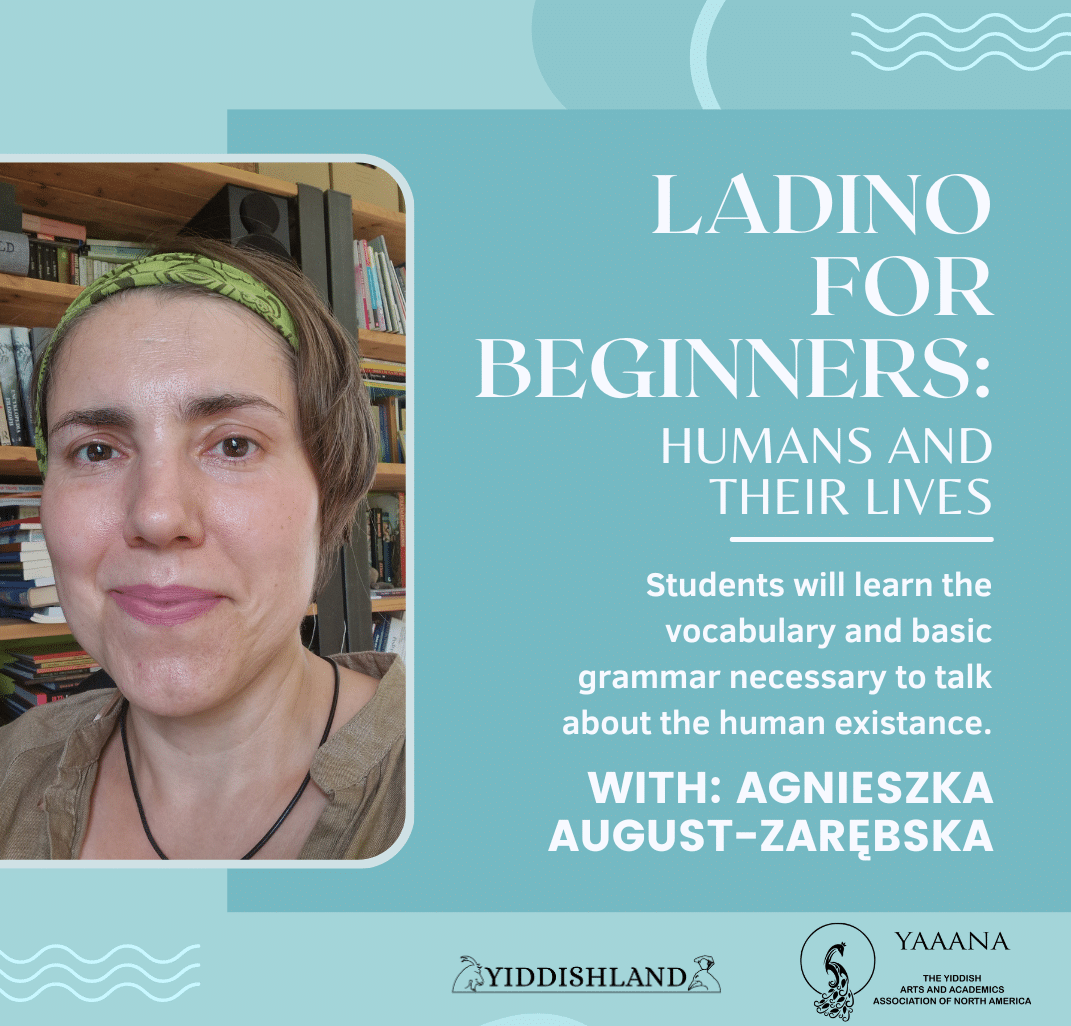 Ladino for beginners: Human Being and his/her Life
During this course entitled, Benadam i sus vidas, students will get to know vocabulary and basic grammar necessary to talk about the human being: his/her body, age, daily routines, work and pastime activities. We will read short texts (both in Latin alphabet and a little bit of Rashi script), sing songs and write our own texts in Ladino. I will try to show you that Ladino culture has its particularities and getting to know it may be fun!
When: Thursdays, starting on September 28 at 12:00-1:00 p.m. PT (2:00-3:00 p.m. CT, 3:00-4:00 p.m. ET), ending on Thursday November 2. 
Cost: 
General admission, $250 for  6 sessions or an individual class for $50  
Where: Online via Zoom
Instructor: Dr Agnieszka August-Zarębska
Agnieszka August-Zarębska is an assistant professor in the Taube Department of Jewish Studies at the University of Wrocław, Poland. She has a degree in Spanish Studies and her current research interests include contemporary Ladino poetry, contemporary literary translations into Ladino and Sephardic children's literature. She also worked on critical editions of the early 20 th century Judeo-Spanish literature. She developed her knowledge of
Ladino and Sephardic culture in CSIC, Madrid, at Bar-Ilan University, Ramat Gan. In 2022 she had a research stay at the University of Washington in Seattle. She has delivered lectures and workshops at several universities and cultural centers, to include the University of Washington, CIDiCSef in Buenos Aires, Salti Center for Ladino Studies of Bar- Ilan University, Sephardic Summer School in Halberstadt and the Jewish Historical Institute in Warsaw.