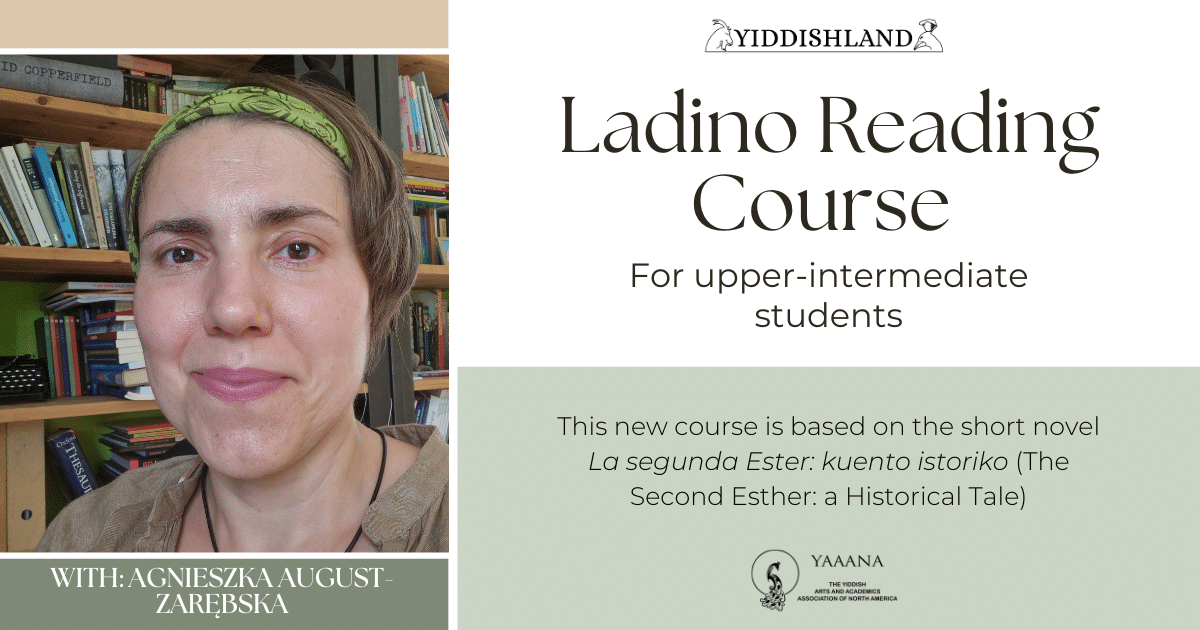 Upper-Intermediate Judeo-Spanish Reading Course for Upper-Intermediate Students 
During my previous course, Meldamos en Ladino, I led my students in reading the short novel, Nikola el primero i el djidio (Nicolas the First and the Jew). This new course will be based on a short novel (romanso) La segunda Ester: kuento istoriko (The Second Esther: a Historical Tale) which tells the story of Esterka, a beloved woman of the Polish king Casimir the Great. This was an important legend in the Jewish Ashkenazi culture and was translated into Ladino from the Hebrew original in 1905. The course is aimed at developing the reading skills in Rashi script. To follow this course an intermediate Ladino knowledge or an intermediate Spanish knowledge will be helpful.
When: Mondays, startig on October 2  at 1:00-2:00 p.m. PT (3:00-4:00 p.m. CT, 4:00-5:00 p.m. ET), ending on November 6.
General admission, $395 for 6 sessions or an individual class for $74
Where: Online via Zoom
Instructor: Dr Agnieszka August-Zarębska
Agnieszka August-Zarębska is an assistant professor in the Taube Department of Jewish Studies at the University of Wrocław, Poland. She has a degree in Spanish Studies and her current research interests include contemporary Ladino poetry, contemporary literary translations into Ladino and Sephardic children's literature. She also worked on critical editions of the early 20 th century Judeo-Spanish literature. She developed her knowledge of Ladino and Sephardic culture in CSIC, Madrid, at Bar-Ilan University, Ramat Gan. In 2022 she had a research stay at the University of Washington in Seattle. She has delivered lectures and workshops at several universities and cultural centers, for exampleto include the University of Washington, CIDiCSef in Buenos Aires, Salti Center for Ladino Studies of Bar- Ilan University, Sephardic Summer School in Halberstadt and the Jewish Historical Institute in Warsaw.