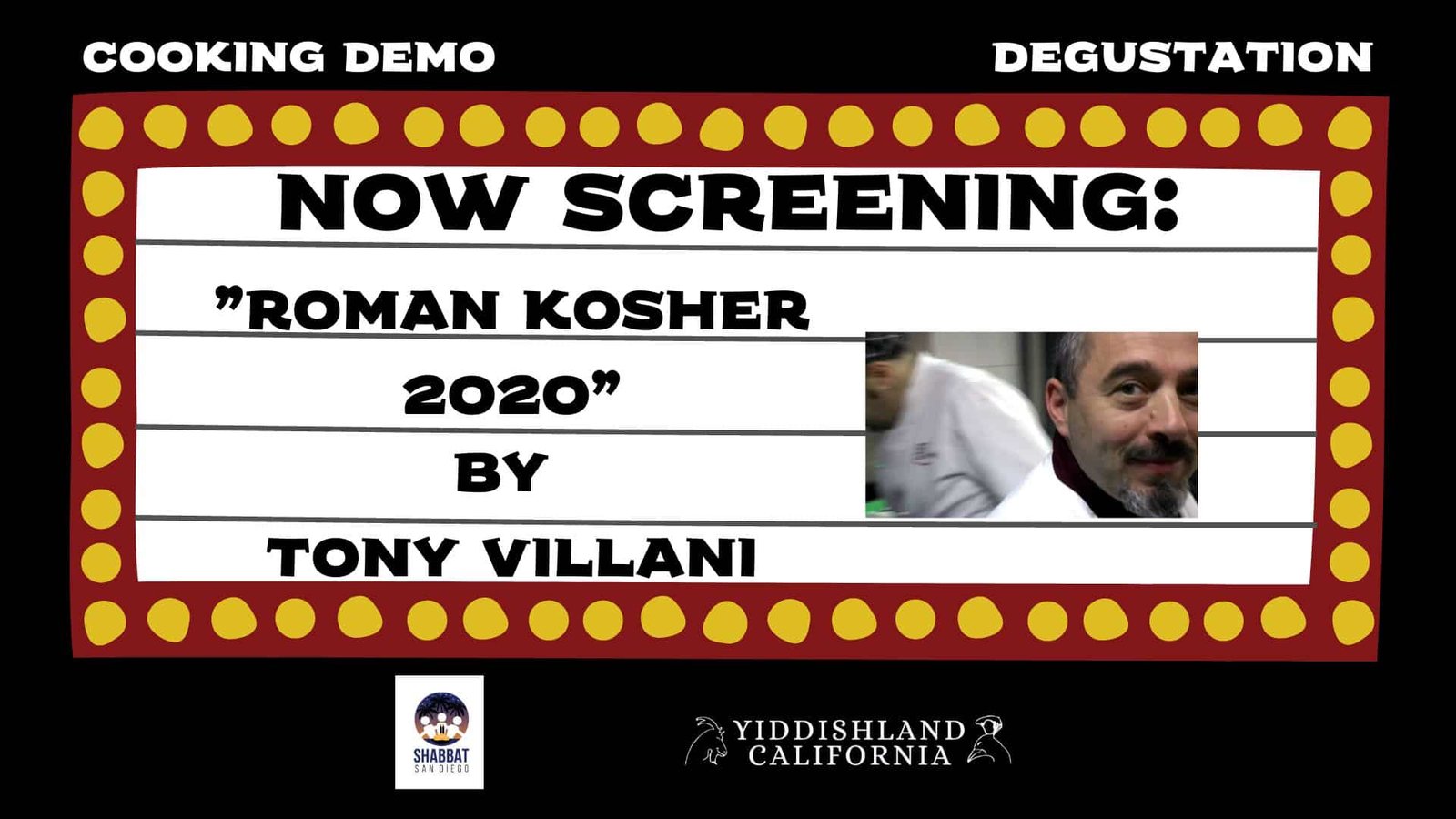 Friday, November 11.
7:00 p.m. PT, 9:00 p.m. CT, 10:00 p.m. ET
In person, at a residential venue in La Jolla and on Zoom (address provided upon registration).
"Roman Kosher 2020"
By Tony Villani
 A
 movie night with a Q&A, cooking demo and degustation
Yiddishland presents a movie screening paired with a Q&A, cooking demo and degustation. "Roman Kosher 2020" is intended as a tasty culinary journey through Roman Jewish cuisine in its traditional and innovative incarnations with master chef Giovanni Terracina. While introducing and highlighting the work of a renowned kosher chef and a variety of delicious Roman Jewish dishes, this surprising and tasty tour traces the rich and textured history and tradition of Jewish Rome and its unique community through food. "Roman Kosher" was shot entirely on location in Rome's former Jewish Ghetto, now a veritable crossroads of cultures and ethnic diversity where locals and tourists, Gentiles and Jews coexist remarkably well without clashing.
When: Friday, November 11, 7 p.m.
Where: This is an in-person event taking place in an outdoor venue in La Jolla, weather permitting.
Tickets: $20 plus fees for early bird tickets, $30 plus fees for late registration; includes nosh and open bar.  Zoom tickets for $10. You can also send a check.
About the director: Tony Villani is an award winning independent filmmaker active in both the U.S. and Europe. His films include "SOLDIERS, Six Stories, Six Wars" (2021) and "Susan & Thomas" (2017). His current project, "Black Angel City, Stories from Black LA" is currently in post production. Tony Villani has been teaching film and acting for various U.S. colleges both at home and abroad.