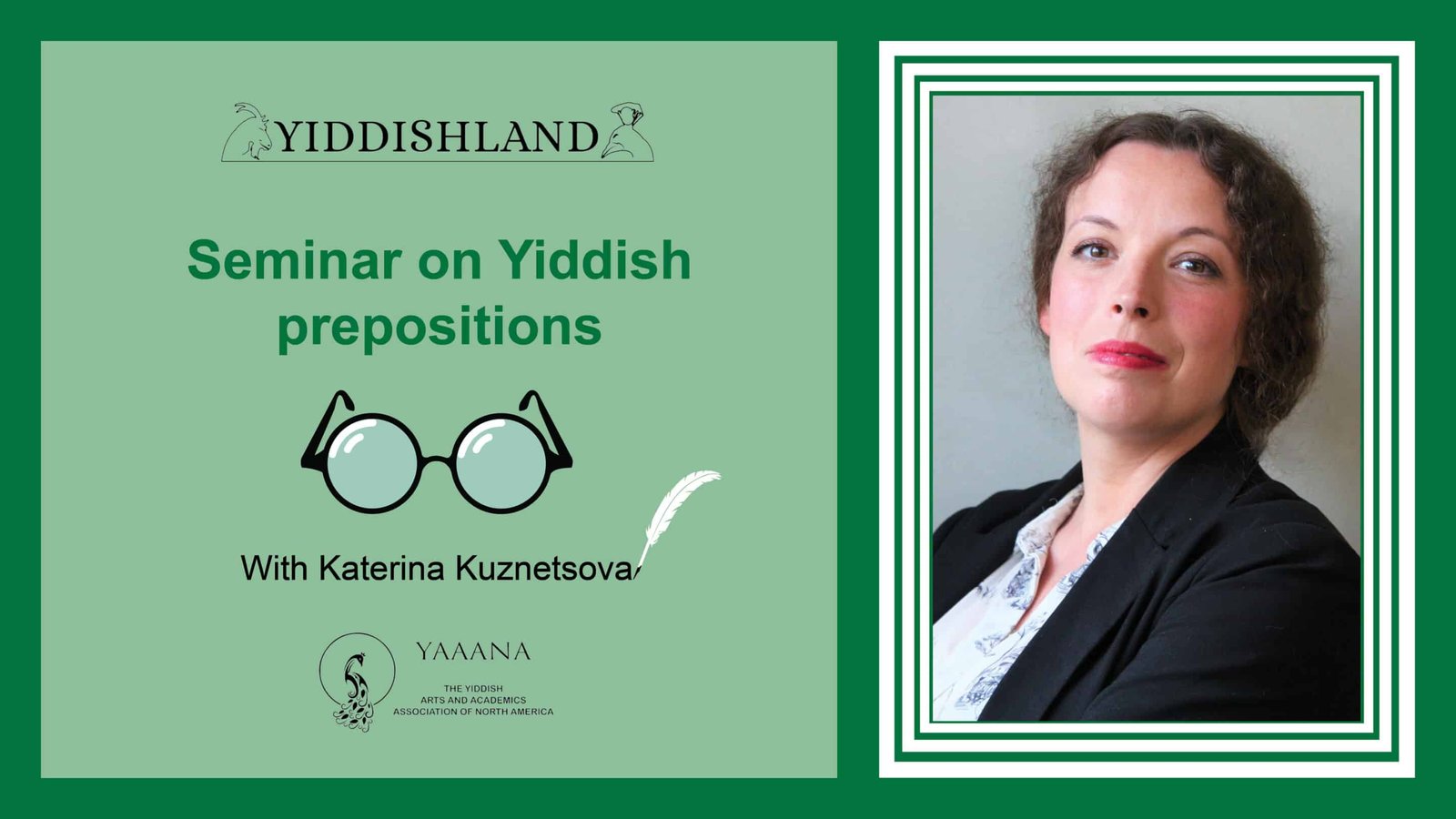 Sunday, November 6, 2022.
11:30 a.m. – 1:00 p.m. PT
1:30 p.m. – 3:00 p.m. CT
2:30 p.m. – 4:00 p.m. ET
Online via Zoom
Seminar on Yiddish Prepositions with
Ekaterina Kuznetsova
All these oyf, bay, keyn, fun… So short but extremely important words that help us put the words in a phrase together. Prepositions usually have many meanings and can be used in different contexts. We will focus on the ones that are most of all confusing for English speakers, i.e. the ones that sound like English prepositions but have completely different meanings. Participants will be able to ask questions, and we will do a lot of exercises together!
*Number of tickets is limited to 20.
*You can get the recording of the zoom-session in case you cannot attend live. The recording will be available for three weeks.
Tuition: $30 for this seminar or $150 for the 4 grammar workshops (Prepositions, nouns, adjectives and syntax)
Early Bird: $25 for this seminar or $120 for the 4 grammar workshops (Prepositions, nouns, adjectives and syntax)
Instructor: Katerina Kuznetsova
Katerina Kuznetsova has been teaching Yiddish (language, grammar, and literature) for YAAANA since 2020. Currently, she is doing the Yiddish Pedagogy Fellowship with Yiddish Book Center.
She was born in Moscow where she studied Literature, Pedagogics, and Religious Studies. In 2016, Katerina graduated from the MA program in Yiddish Studies at the Hebrew University of Jerusalem. She lives in Berlin, where she co-founded the initiative Yiddish.Berlin – a group of artists and activists that organises cultural events involving Yiddish literature and culture.