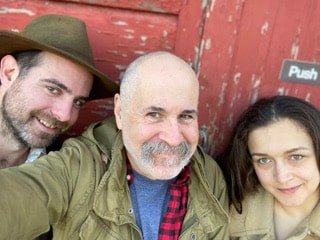 Saturday,
February 19, 2022,
4:30 p.m. – 6:30 p.m. 
Where? An outdoor venue in La Jolla, address provided upon registration.
Exclusive Klezmer Concert
Sklamberg Lurje Judelman Trio:
Yiddish Songs of Resilience
This new program offers a rare intimate setting to hear two of the most sought after voices in the contemporary Yiddish scene –  world-renowned Klezmatics' front-man Lorin Sklamberg and Latvian chanteuse Sasha Lurje – presenting songs that speak to finding power in challenging moments. The Jewish people have centuries of experience dealing with difficult times, and song has always been a way to give voice to our struggles and hopes for a better future. These diverse songs, ranging from the contemporary to early-modern period, help us contextualize the present moment and remind us we will make it through to better times, as we always have. 
In cooperation with UCSD Jewish Studies Program, SAJAC, Sunrise Foundation for Education and the Arts and L'Chaim Magazine.
Cost:
In- Person: $30
Online (through Zoom): $18 donation
About the Band:
The band is led by Lorin Sklamberg, famous for his work as the lead singer  of the Klezmatics, as well as an accordionist, Chief Sound Archivist at YIVO and pioneer of the Yiddish revival. He is joined by two Berlin-based leaders of the klezmer scene – vocalist Sasha Lurje and fiddler Craig Judelman. Ms. Lurje (of Riga, Latvia) brings to the stage her fire, talent and charisma, as well as a deep knowledge of Yiddishkeit learned first hand from the last of the old troubadours. Mr. Judelman grew up in Seattle amid the aftermath of the various folk revivals and made a name for himself as an old time as well as klezmer fiddler in New York before life took him to New Orleans and now Berlin.