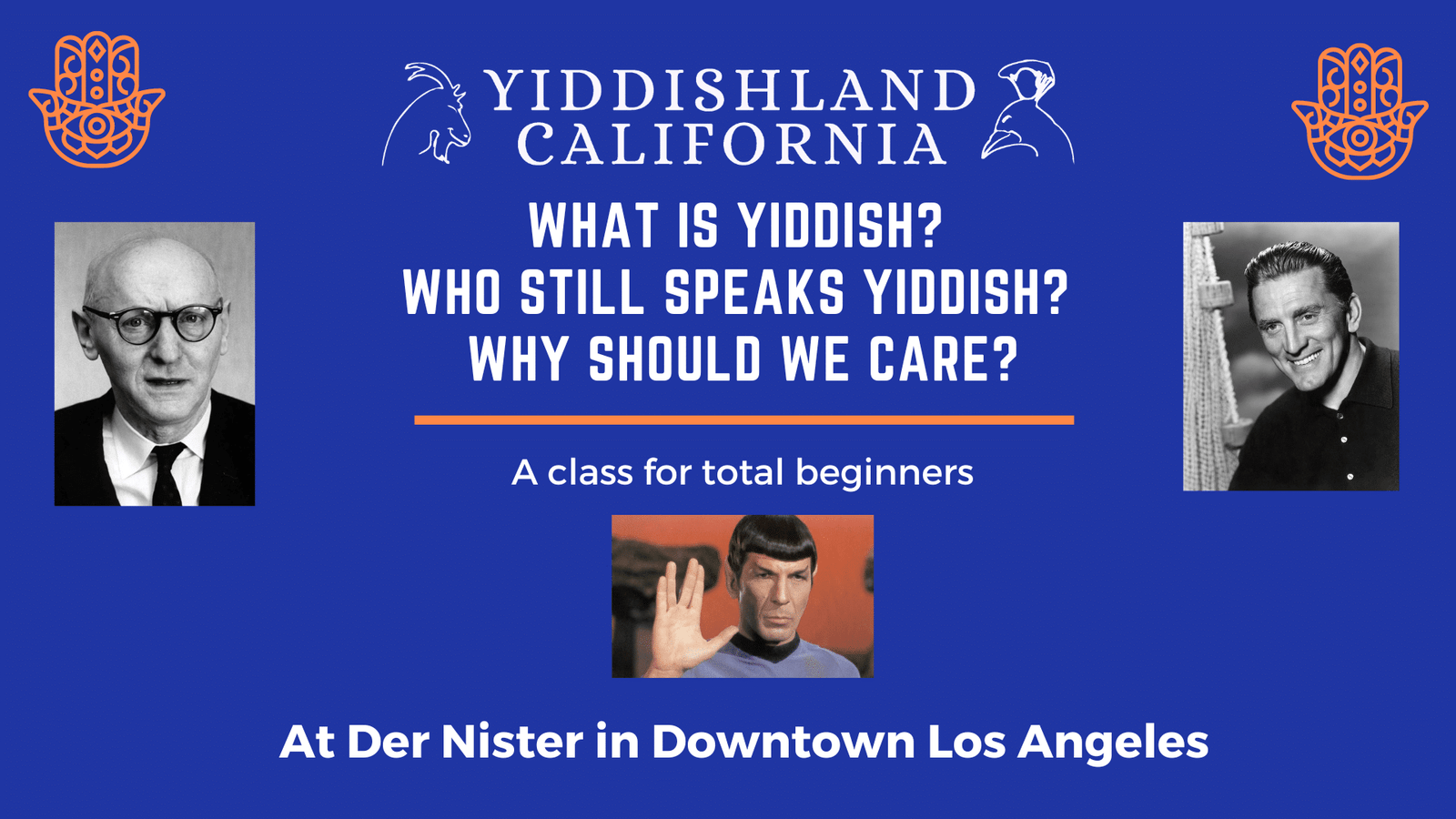 What is Yiddish? Who still speaks Yiddish? Why should we care?
If you seek answers to these questions, this is an event for you. Learn about the origins and development of Yiddish and get your questions answered by our CEO Jana Mazurkiewicz Meisarosh. Drink a glass of wine, enjoy some nosh, and mingle with other people with interest in the Los Angeles area. This event will be broadcast on Zoom.
Cost: sliding scale, the sooner you register the less you pay!
$18 if you register between Sunday, May 21  and Friday, June 2  (nosh and drinks included)
$25 if you register after Friday, June 2
$8 for Zoom participation, if you register  before Sunday, May 21
$10 for Zoom participation, if you register after Sunday, May 21
Where: In-person at Der Nister LA at 639 S Spring St Apt. 14a, Los Angeles, CA and on Zoom
When: Sunday June 4,  3:00-4:30 p.m. PT (5:00 p.m. CT, 6:00 p.m. ET)
Instructor: Jana Mazurkiewicz Meisarosh
Jana Mazurkiewicz Meisarosh is a PhD candidate in the Slavic Department at the University of Michigan, Ann Arbor. She is working on her dissertation on Yiddish Theater in Communist Warsaw. Originally from Poland, Jana holds a Master of Arts degree in Polish Philology and Jewish Studies from the University of Wrocław. Jana is not only a practicing academic but also an active theater artist and critic. She is an actor, director, playwright, and producer of Yiddish theater. In October 2017, she moved to San Diego and launched the Yiddish Arts and Academics Association of North America (YAAANA), Yiddishland CA, and the Yiddish Theater Academy.