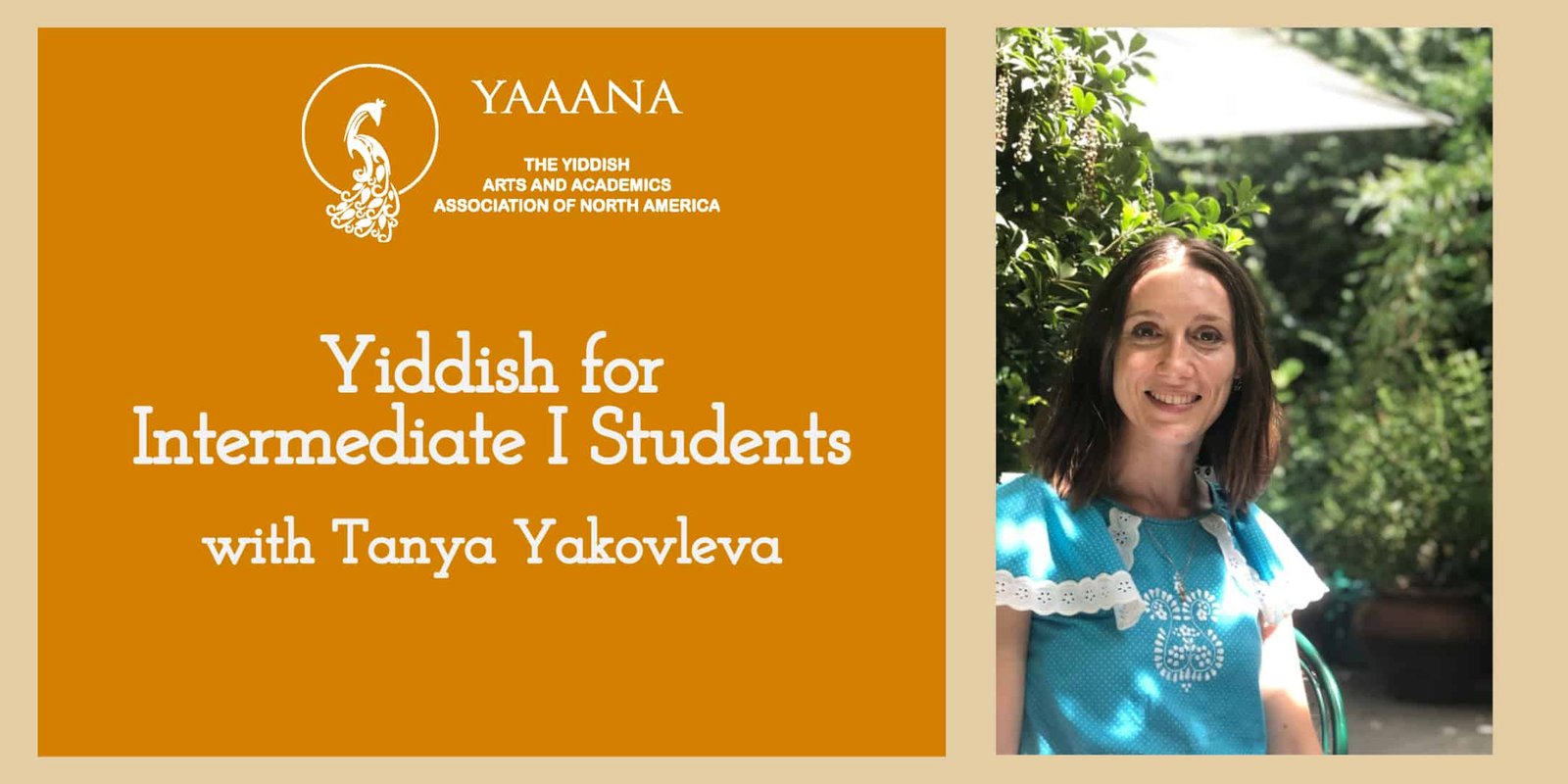 10 online sessions, Tuesdays
June 28 – September 6
1:00 p.m. – 2:30 p.m. PT
3:00 p.m. – 4:30 p.m. CT 
4:00 p.m. – 5:30 p.m. ET
Yiddish for Intermediate I with Tanya Yakovleva

In this course, you will build on the grammatical knowledge acquired while attending YAAANA's Beginner II class series or a similar Yiddish course. We will use different materials and repeat skills gained in the previous level such as conjugation in the past and future times. Students will gain knowledge of how to compare adjectives, to use contractions, conditional sentences and possessive forms, and how to say dates in Yiddish according to the Jewish Calendar. ​​You further develop speaking, reading, writing, and comprehension skills by listening to informative videos about famous figures in Yiddish culture, and discussing films and songs in Yiddish.  
When: Tuesdays, starting on June 28, 2022, ending on September 6, 2022; from 1 p.m. PT (3 p.m. CT, 4 p.m. ET, 10 p.m. in most of Europe, 11 p.m. in Israel) to 2:30 p.m. PT.
Where: on Zoom
Tuition: $270 all 10 weeks or $30 for a 90 minute online class.
Early Bird (before June 15): $230 all 10 weeks or $25 for a 90 minute online class. 
Students: $230 all 10 weeks or $25 for a 90 minute online class. 
Instructor: Tanya Yakovleva 
She studied Comparative Literature, Classical, Slavic, Jewish, and Media Studies at the universities of Kharkiv, Regensburg, Bari, and San Diego. Tanya received her PhD in Russian and Jewish Studies from the University of Regensburg in 2019 and since then she has been teaching for YAAANA.