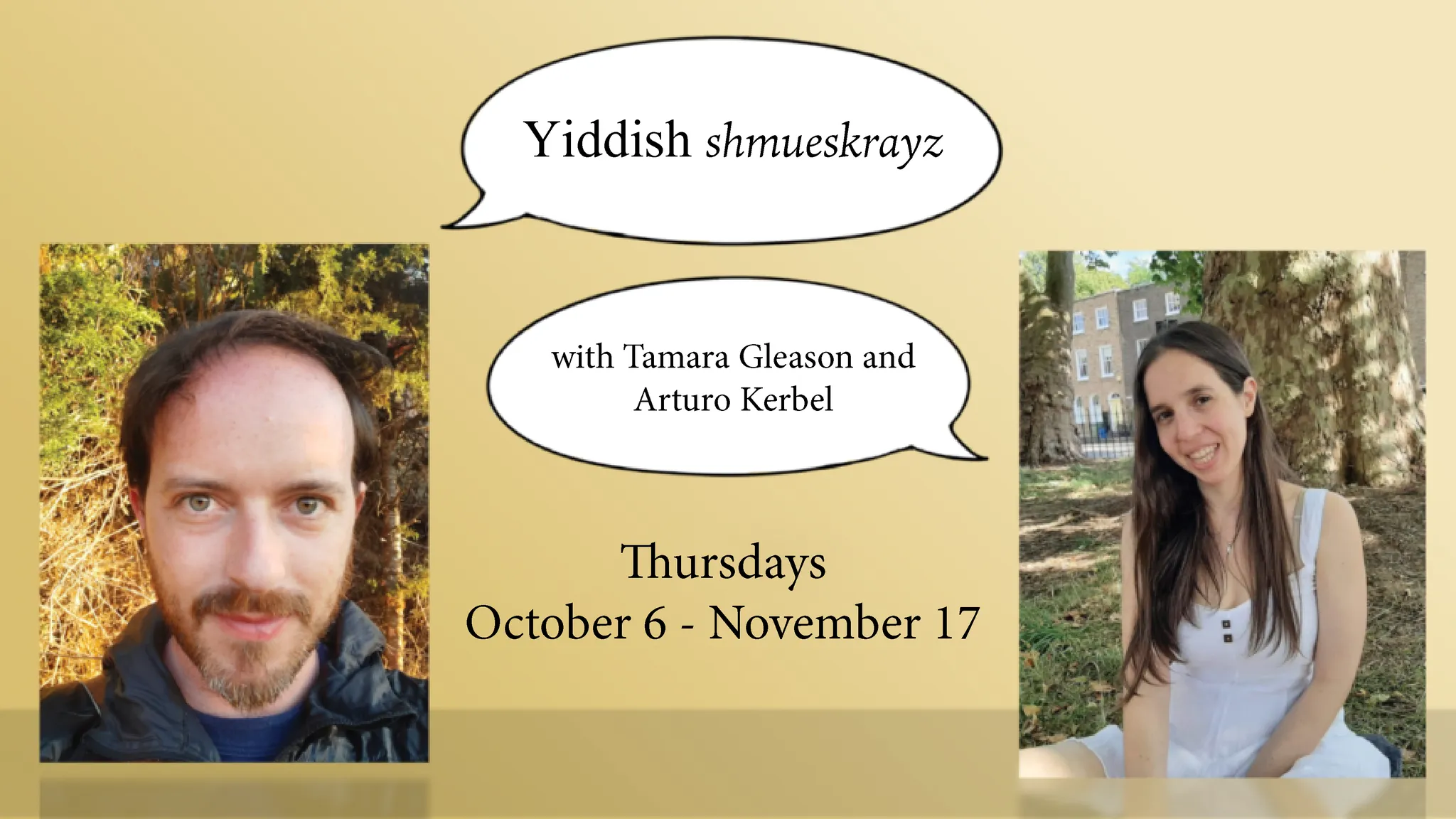 Thursdays, starting on October 6, ending on November 17, 2022 
 2:30 p.m. – 3:30 p.m. PT
4:30 p.m. – 5:30 p.m. CT
5:30 p.m. – 6:30 p.m. ET
6 sessions in total,
Online via Zoom
If you want to practice your Yiddish and have a good time getting to know people, this is the right course for you. We will speak in mame-loshn about diverse topics. We will have a conversation both as a group and in smaller cohorts according to level. Some of the sessions will be focused on a specific topic. We will also try to solve a couple of riddles and learn some Yiddish expressions and sayings to enrich our Yiddish repertoire. This is a course for beginner, intermediate and advanced learners of Yiddish as we will be working according to level.
Cost: $25 per session or 6 sessions for $120
Where: Online via Zoom
Facilitators:
Tamara Gleason Freidberg is a historian (MPhil by UNAM, Mexico) and a gerontologist (MSc by King's College London). She is the author of Di Shvue, los bundistas en México y su participación en la comunidad judía. Her work includes publications on Mexican Yiddish literature and the Jewish Left in Mexico. Tamara facilitates Yiddish sessions at the Holocaust Survivor's Centre, is an active organiser of the Yiddish Open Mic (London) and Yiddish House London. As a PhD candidate at UCL London, she currently studies the Yiddish press in Mexico, its' sources and its' unique role in the communication of news about the Holocaust as it developed.
Arturo Kerbel is a clinical psychologist (U Iberoamericana, Mexico), cognitive neuroscientist (UCL, King's College London), and lifelong Yiddish activist. He led a student group resisting the exclusion of Yiddish from the school curriculum, received a grant from the Abraham Golomb Fund at age 14, and from the Ashkenazi Community at age 16, to continue with the fight. He founded Idishe Shtub Mx, a group of young Yiddish activists offering lessons and other cultural activities. He is the current coordinator of Yiddish House London, an informal organization planning Yiddish trips for young people around Europe, Yiddish lessons, Jewish holiday celebrations, and outreach projects in Jewish communities in Lithuania and Belarus