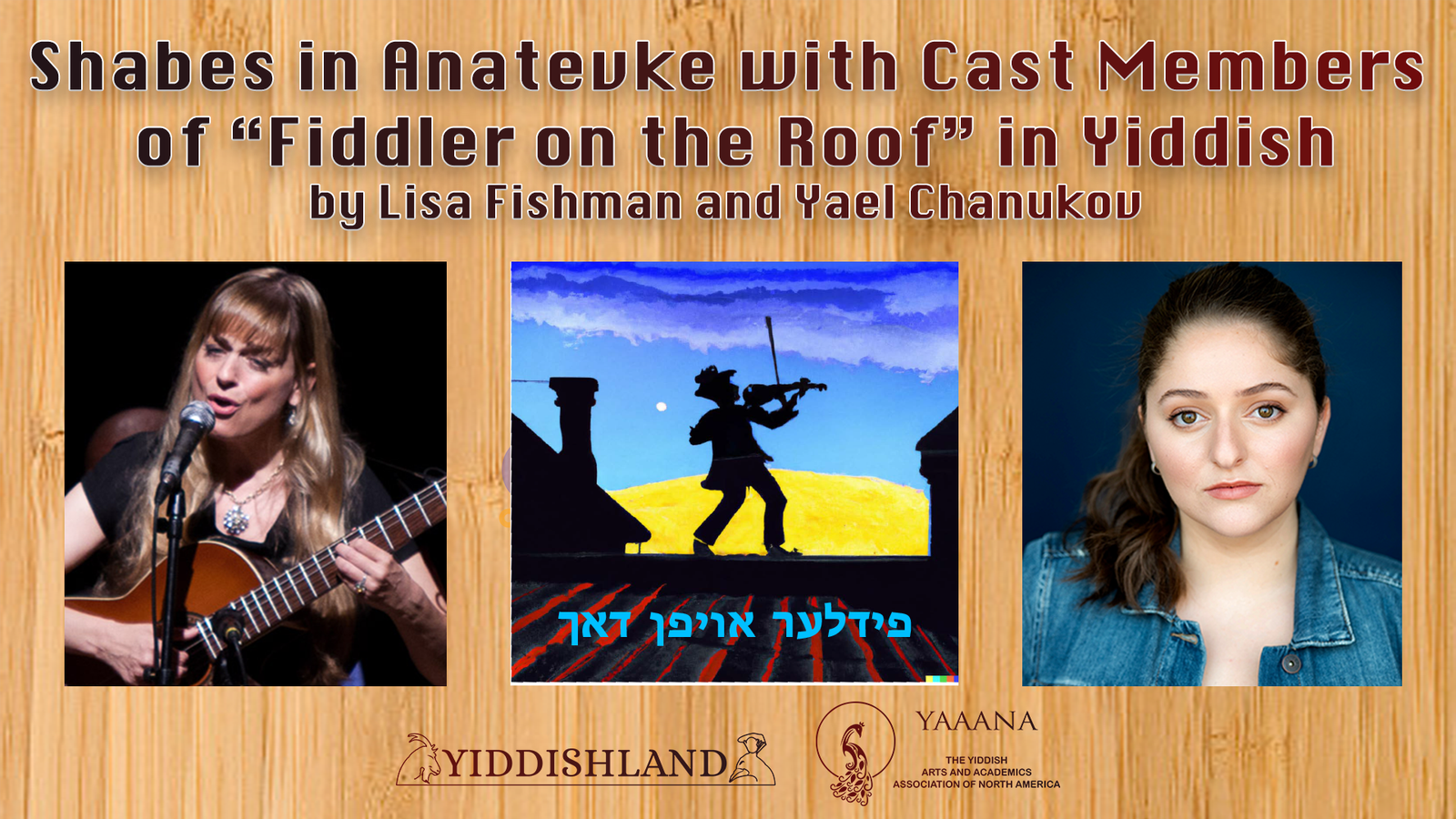 Shabes in Anatevke with Cast Members
of "Fiddler on the Roof" in Yiddish
We are honored to introduce you to Yiddishland's very special guests from NYC – cast members of the exceedingly popular off-Broadway production of "Fiddler on the Roof" in Yiddish, directed by Joel Grey. Performers Lisa Fishman and Yael Chanukov will share a few songs and stories from behind the scenes of that critically acclaimed production. Get a taste of "Fidler afn dakh" here in San Diego! Translation of the Yiddish lyrics will be provided. Nosh and open bar are included in the ticket price. The event will be broadcast via Zoom.
When:
Friday, January 13, 2023
7:00 p.m. – 9:00 p.m. PT
9:00 p.m. – 11:00 p.m. CT
10:00 p.m. – 12:00 a.m. ET
Where: Private residence on Mt. Soledad and on Zoom; address available upon registration
Tickets:
$40 for in person attendance
$18 for Zoom attendance

Performers: Lisa Fishman and Yael Chanukov

Lisa Fishman: Singer, actor, musician and songwriter, Lisa Fishman, most recently starred as Yente the matchmaker, as well as Bobe Tsaytl (aka: "Grandma Tzeitl"), in the Off Broadway hit, "Fiddler on the Roof" in Yiddish, directed by Oscar and Tony Award-winner, Joel Grey. Originally from Chicago and having lived in LA and New York City for the past two decades, Lisa has had a diverse career that has taken her from Klezmer bands to Musical Theater to Yiddish Theater – to work in Rock, Pop, Jazz and Folk Music, Children's Television, Voice Over and more.
Lisa is known for being one of the lead singers of Chicago's renowned Maxwell Street Klezmer Band for many years, as well as starring in numerous productions with NYC's National Yiddish Theater Folksbiene. She has performed around the world, appeared on recordings and television, shared the stage with many luminaries from the world of Theater and Jewish Music, and recently provided the voice for a new dancing plush toy called "My Yiddishe Bubbie" who doles out Yiddish expressions and dances along to Klezmer music! (www.MyYiddisheBubbie.com) Lisa has a deep passion for Jewish music and loves being able to share it with others. (lisafishman.com)
Yael Chanukov: Yael recently made her Off Broadway debut in the Yiddish "Fiddler on the Roof" directed by Joel Grey. She was in the ensemble and understudied the three lead daughters- Chave, Hodl, and Tsaytl. With her Russian Jewish background, Yael felt honored to tell a story that mirrors her own family history. While she was born in Israel she grew up right here in sunny San Diego! Her favorite past roles include Dorothy in "the Wizard of Oz" and Natalie in "Next to Normal". She is also soon to be seen in the upcoming season of "Marvelous Mrs. Maisel". In addition to performing, Yael also runs an online voice and acting studio which can be found at musicaltheatrecoach.com.