When: Thursdays, starting on September 28, 12 – 1:00 p.m. PT, 2 – 3:00 p.m. CT, 3 – 4:00 p.m. ET
Online via Zoom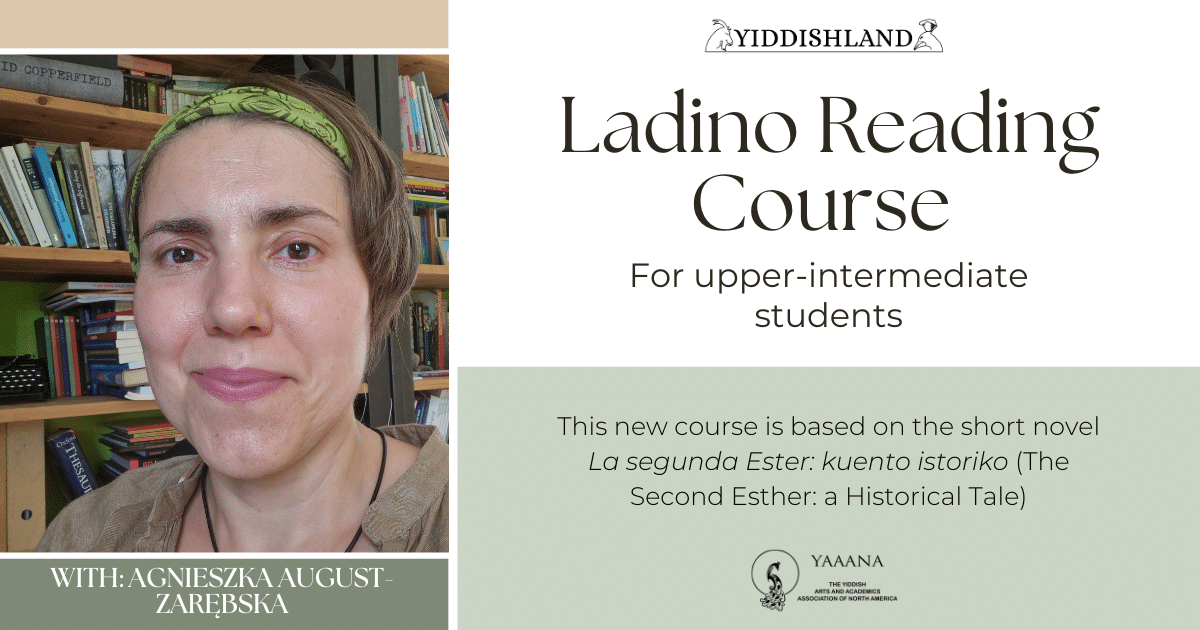 When: Mondays, starting on October 2, 1 – 2:00 p.m. PT, 3 – 4:00 p.m. CT, 4 – 5:00 p.m. ET
Online via Zoom

Kathy Balgley will be discussing her book "Letters to My Father". The book is a fascinating memoir about the journey of discovering her Jewish heritage when she learns that her father has a hidden Polish Jewish identity.
When: Sunday, October 7, 7:00 – 8:30 p.m. PT (9:00 – 10:30 p.m. CT, 10:00 – 11:30 p.m. ET) 
In this course conducted entirely in Yiddish, students of intermediate II level will practice reading and translating skills without judgment and comparisons.
When: Wednesdays, October 11 – December 13, 1 – 2 p.m. PT (3 p.m. CT, 4 p.m. ET, 10 p.m. in most of Europe, 11 p.m. in Israel)
In this class we will will speak in mame-loshn about diverse topics and try to solve a couple of riddles and learn some Yiddish expressions.
When: Thursday, November 2 11 a.m PT (1:00 p.m CT, 2:00 p.m ET, 7:00 p.m in the UK, 8:00 p.m in Central Europe) 
Yiddishland California in La Jolla is the cultural center and a museum created by a non-profit organization called the Yiddish Arts and Academics Association of North America (YAAANA). YAAANA is classified as a 501(c)(3) nonprofit organization according to the standards of the Internal Revenue Service (IRS). Our EIN is 85-2064877, and all donations are tax-deductible to the extent allowed by law. People of all ages and backgrounds are invited to attend our programs. Yiddishland California's  mission is to expand awareness of the beauty and joy of Yiddishkeit and to preserve and advance Yiddish language and culture within the US and worldwide. Our events and offerings include concerts, performances, language and art classes, lectures, exhibits, and much more. We educate and entertain while offering both in-person and online participation for those who are local or far-flung. 
If you see an activity inside and the lights on, please come in to say hello and wander around our exhibit! 
Yiddishland California tours are by appointment. Feel free to book a tour here below.