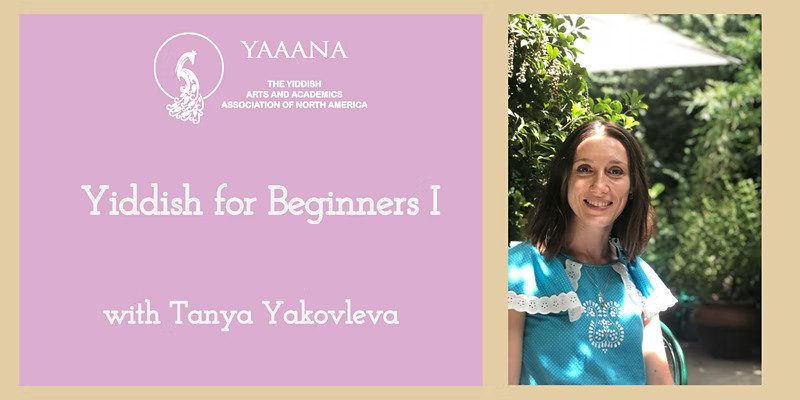 Tuesdays, 10 online sessions 
June 28 – September 6
12:00 p.m. – 1:00 p.m. PT
2:00 p.m. – 3:00 p.m. CT 
3:00 p.m. – 4:00 p.m. ET
Yiddish for Beginners I with Tanya Yakovleva

This class for total beginners emphasizes spoken and written communication, and provides a basic introduction to Yiddish culture. By the end of the course, students will be able to understand basic Yiddish and express themselves. Through watching informative videos about famous figures in Yiddish culture, discussing films, and singing Yiddish songs, this course will cover all four areas of language learning: speaking, writing, reading, and listening.
When: Starts June 28, Tuesdays 12 p.m. PT (2 p.m. CT, 3 p.m. ET, 9 p.m. in most of Europe, 10 p.m. in Israel), ends September 6.
Where: on Zoom

Tuition: $230 all 10 weeks or $25 for a 60 minute online class. 
Early Bird (before June 15): $180 all 10 weeks or $20 for a 60 minute online class. 
Students: $180 all 10 weeks or $20 for a 60 minute online class.
Instructor: Tanya Yakovleva 
She studied Comparative Literature, Classical, Slavic, Jewish, and Media Studies at the universities of Kharkiv, Regensburg, Bari, and San Diego. Tanya received her PhD in Russian and Jewish Studies from the University of Regensburg in 2019 and since then she has been teaching for YAAANA.