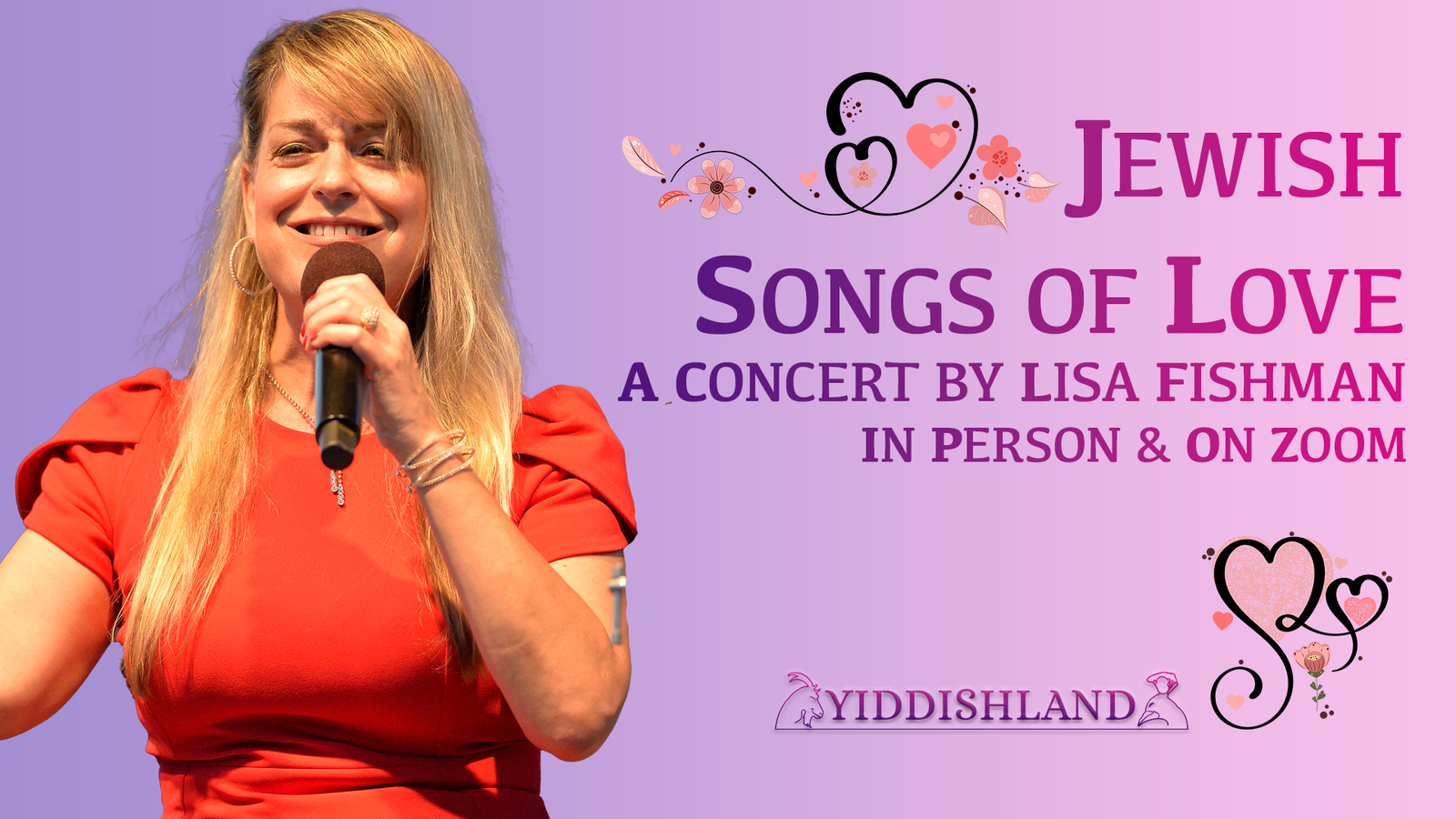 Jewish Songs of Love
with Lisa Fishman

Celebrate Valentine's Day and all things love with Lisa Fishman, who will be coming to Yiddishland from NYC, where she just starred as Yente the Matchmaker, as well as Bobe Tsaytl, in the Off-Broadway production of 'Fiddler on the Roof' in Yiddish directed by Joel Grey. Spend an evening enjoying love songs and more in Yiddish, English and Ladino from the world of Jewish song. Lisa will sing romantic tunes – as well as other songs on love, longing and heartbreak – along with some comic tunes about relationships and marriage. Lisa will be accompanied on piano as well as her guitar. Nosh and drinks are included in the ticket price. This is an event suitable for couples and for singles, and will be broadcast via Zoom.
When: Friday, Feb 10, 7 p.m. PT (10 p.m. ET)
Where: A private venue in La Jolla, to be announced closer to the event date
Tickets:
$30 if you register by February 5 for in-person attendance
$40 if you register between February 6 and 10 for in person attendance
$10 for early bird Zoom participation (expires on February 5)
$18 for last-minute Zoom registration (after February 5)
BIO – Lisa Fishman
Singer, actor, musician and songwriter, Lisa Fishman, most recently starred as Yente the matchmaker, as well as Bobe Tsaytl (aka: "Grandma Tzeitl"), in the Off Broadway hit, "Fiddler on the Roof" in Yiddish, directed by Oscar and Tony Award-winner, Joel Grey. Originally from Chicago and having lived in LA and New York City for the past two decades, Lisa has had a diverse career that has taken her from Klezmer bands to Musical Theater to Yiddish Theater – to work in Rock, Pop, Jazz and Folk Music, Children's Television, Voice Over and more.
Lisa is known for being one of the lead singers of Chicago's renowned Maxwell Street Klezmer Band for many years, as well as starring in numerous productions with NYC's National Yiddish Theater Folksbiene. She has performed around the world, appeared on recordings and television, shared the stage with many luminaries from the world of Theater and Jewish Music, and recently provided the voice for a new dancing plush toy called "My Yiddishe Bubbie" who doles out Yiddish expressions and dances along to Klezmer music! (www.MyYiddisheBubbie.com) Lisa has a deep passion for Jewish music and loves being able to share it with others. (www.LisaFishman.com)