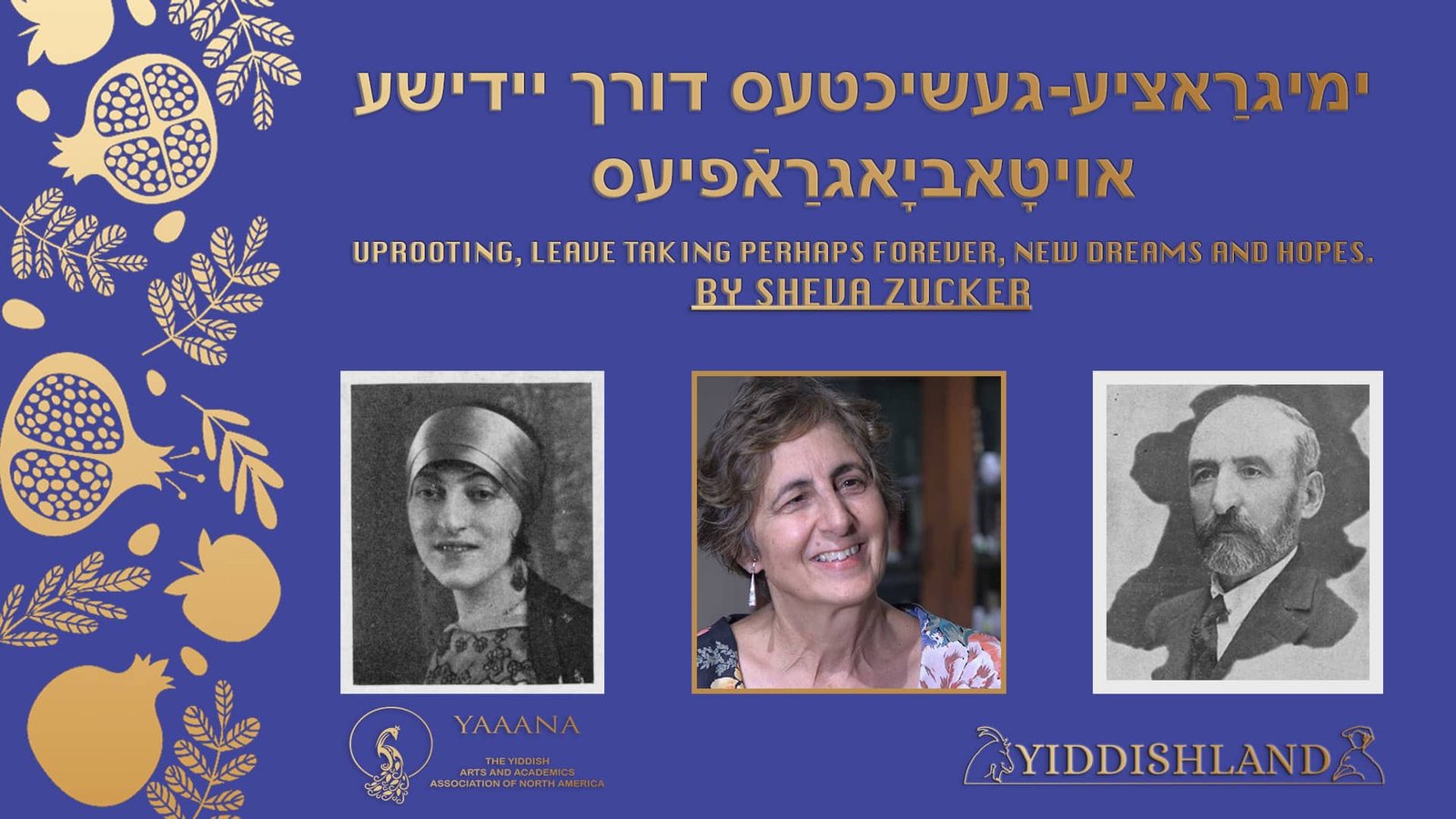 Mondays, January 9 to February 13, 2023
2:00 p.m. – 3:30 p.m. PT
4:00 p.m. – 5:30 p.m. CT
5:00 p.m. – 6:30 p.m. ET
6 sessions in total,
Online via Zoom
אימיגראַציע־געשיכטעס דורך ייִדישע
אויטאָביאָגראַפֿיעס
(Immigration Stories through Yiddish Autobiography)
אימיגראַציע: זיך אויסוואָרצלען, זיך געזעגענען אפֿשר אויף אייביק, נײַע חלומות און האָפֿענונגען…
אין דעם קורס וועלן מיר לייענען אויטאָביאָגראַפֿישע טעקסטן וואָס קאָנצענטרירן זיך אויף אימיגראַציע, געשריבן סײַ פֿון מענער סײַ פֿון פֿרויען פֿון דעם שפּעט נײַנצעטן ביז אין מיטן צוואַנציקסטן יאָרהונדערט, ווי למשל מרדכי אַלפּערסאָן (אַרגענטינע), מלכּה לי (אַמעריקע), פֿאַלק זאָלף (קאַנאַדע), און דבֿורה דיין (ישׂראל). גראַמאַטיק וועט גנעומען ווערן פֿון די שריפֿטן.
שבֿע צוקער האָט געלערנט און געהאַלטן רעפֿעראַטן װעגן דער ייִדישער שפּראַך, ליטעראַטור און קולטור אױף פֿינף קאָנטינענטן. זי איז אַ לאַנגיאָריקע לערערין אין דער אוריאל װײַנרײַך־פּראָגראַם אין דער ייִדישער שפּראַך, ליטעראַטור און קולטור בײַם ייִװאָ אין ניו־יאָרק. זי איז די מחברטע פֿון די לערנביכער ייִדיש: אַן אַרײַנפֿיר: לשון, ליטעראַטור און קולטור, באַנד 1 און 2  און איז 15 יאָר געווען דער אױספֿיר־סעקרעטאַר פֿון דער ייִדיש־ליגע װי אױך דער רעדאַקטאָר פֿון איר זשורנאַל אױפֿן שװעל.
Immigration: Uprooting, leave taking perhaps forever, new dreams and hopes. We will read autobiographical writings focusing on immigration, choosing from the memoirs of both male and female memoirists such as Mordkhe Alperson (Argentina), Malke Li (America), Falk Zolf (Canada), and Dvoyre Dayan (Israel), ranging from the late-nineteenth to the mid-  twentieth century. Grammar to be studied will be drawn from these writings.
Where: on Zoom
Tuition: $35 for each session or 6 sessions for $180
Instructor: Sheva Zucker
She has taught and lectured on Yiddish language, literature and culture on five continents and has taught Yiddish for many years in the Uriel Weinreich Program in Yiddish Language, Literature and Culture of the YIVO Institute for Jewish Research in NYC. She is the author of the textbooks Yiddish: An Introduction to the Language, Literature & Culture, Vols. I & II. She served as editor of the magazine Afn Shvel from 2005 to 2020.